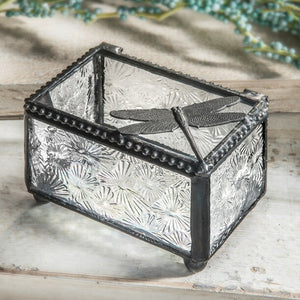 A beautiful handmade glass box for trinkets and treasures.
Clear, textured glass in a floral pattern, accented with a metal dragonfly.
Features a hinged lid with a chain on the inside to support the top when it is open, decorative beaded edging, and round ball feet.  The metal trim and solder have been antiqued with a charcoal finish, giving this unique box a vintage look.
Measures:   3.25" x 2.25" x 2.25"