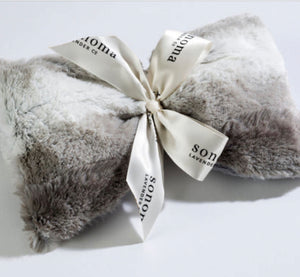 Soothe and relax with the calming scent of Lavender.
This incredibly-soft faux fur eye pillow can be lightly heated in the microwave for subtle warmth to release the light lavender fragrance.
Place over your eyes, on your forehead, or any spot that needs pampering.  The scent of this therapeutic herb is like a mini-spa treatment in your own home, any time you need it.
A wonderful gift idea on its own, or pair it with a Lavender candle, soap, or hand cream.
Measures 5"W x 9"L
Approx. 10 oz
Ultra-soft faux fur cover easily removed for machine washing
Made in California
Color:  Angora Platinum Faux Fur