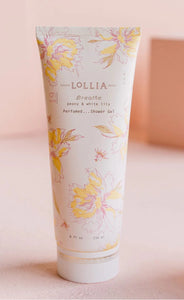 Luxe Lather. Fresh botanical extracts condition and cleanse as honey-rich emollients of Shea Butter & Jojoba Oil smooth and moisturize, leaving skin refreshed and hydrated.

Delightfully perfumed with a floral heart of Peony & White Lily.

Modern floating peonies encase this sophisticated satin-touch tube, complete with ever-so-delicate metallic detailing.
Measures:  8"H x 2.8"W
8 oz.